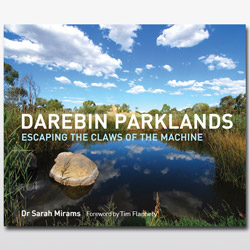 Darebin Parklands: Escaping the Claws of the Machine
Dr Sarah Mirams, Foreword by Tim Flannery
About the book
"I commend this story to anyone who has a vision for improving his or her community, who seeks inspiration to make it happen." From the Foreword by Tim Flannery
The Darebin parklands, an urban bushland on the Darebin Creek is well loved by the surrounding community but that was not always the case.
Only 35 years ago, the parkland was dominated by a municipal tip, was weed infested and destined for commercial development.
Local people who had a vision for the land and the spirit to fight for it formed the Darebin Parklands Association. The book uncovers past events and perspectives on the landscape and provides a micro study into environmental and social change in Australia.
Flip book Available Now