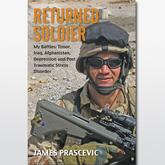 Returned Soldier: My Battles: Timor, Iraq, Afghanistan, Depression and Post Traumatic Stress Disorder
James Prascevic
About the book
James Prascevic was a plumber in Victoria, when he decided to enlist as an infantryman in the Australian Defence Force. With 1 RAR he served in Timor, Iraq and Afghanistan, where he was confronted with the horrifying effects of Improvised Explosive Devices.
Upon his return from Afghanistan, he completed the Commando Selection and Training Course and most of the Reinforcement Cycle for the Special Forces, but broke his leg in a parachuting incident. That was when the black dog bit, causing him to be medically discharged from the ADF after almost ten years of service.
He then did fundraising for the Black Dog Institute, set up the website Different Challenge, and crossed Bass Strait in a tinnie to raise awareness of mental illness and its often devastating effects.
James provides an honest, first-hand account of the front lines of combat, and of the training that got him there. This is his story of life as an infantryman and the unglamorous aftermath of war.
Also available as an ebook on all platforms.