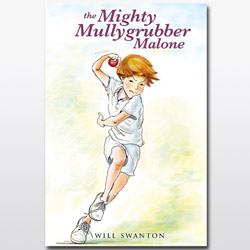 The Mighty Mullygrubber Malone
Will Swanton
About the book
"It's a kids' book for adults and an adults' book for kids. If you love your cricket, you will love this book." — Michael Slater Recent Australian Test Great and Current Cricket Commentator
The 'mullygrubber' is part of cricketing folklore: a ball only delivered by accident, shooting along the ground after hitting a crack in the pitch.
But one bowler, Mullygrubber Malone, has learned to do it on purpose — and being the only one who can, is now the most dangerous bowler in the world. Who cares if Grubber is only twelve?
This story will delight all young cricketers and anyone who has ever dreamed of donning the 'baggy green'.