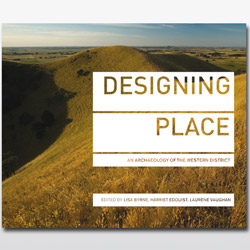 Designing Place: An Archaeology of the Western District
Lisa Byrne, Harriet Edquist & Laurene Vaughan
About the book
Paperback edition is out of stock.
Now available as a digital flip-book.
Designing Place is a beautifully produced book that brings together some of Australia's foremost artists and intellectuals in a project that investigates the meaning of 'place' by focusing on the Western District of Victoria. It is a book that has been supported by the RMIT Design Research Institute.
The book includes the artwork that comprises the 'Stony Rises' exhibition.