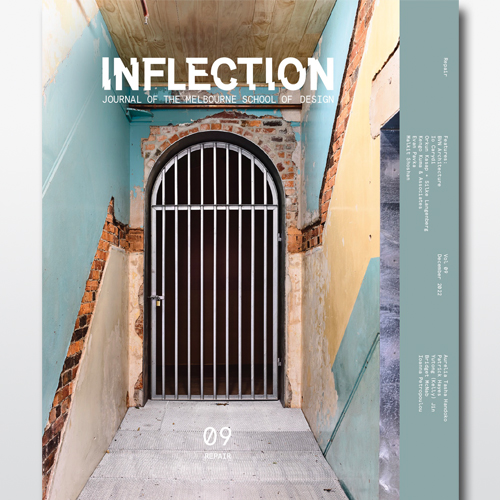 Inflection: Journal of the Melbourne School of Design_Volume 09 Repair
ISBN: 9781877096426
About the book
Editors:
Tasha Handoko, Patrick Hayes, Yutong (Kelly) Jin, Bridget McNab, Ioanna Petropoulou
Inflection is published annually by the Melbourne School of Design at the University of Melbourne and Melbourne Books.
Rejuvenating former industrial areas into natural landscapes hides an uncomfortable truth: pseudo-returns to nature, while poor attempts at erasing the scars on our landscapes, constitute Repair as we know it. Inflection Vol. 09 showcases thinking that is part of a contemporary metamorphosis, where Repair instead becomes a nuanced approach to architectural design in the 21st century. In engaging with the opportunities presented within the built environment, while evaluating potential consequences and leading innovation in the field, how can architecture acknowledge and adapt, rather than continue to damage and eliminate
the existing?
Inflection is a student-run design journal based at the Melbourne School of Design, University of Melbourne. Born from a desire to stimulate debate and generate ideas,it advocates the discursive voice of students, academics and practitioners. Founded in 2013, Inflection is a home for provocative writing—a place to share ideas and engage with contemporary discourse.
Pre-order Now