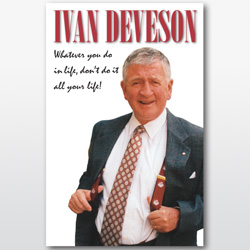 Ivan Deveson: Whatever you do in life, don't do it all your life!
Ivan Deveson
About the book
Ivan Deveson is best known as a Lord Mayor of Melbourne and Chairman of Channel 7. He was also the Foundation Chancellor of Royal Melbourne Institute of Technology (RMIT), the CEO of Nissan Australia and Director of The Commonwealth Bank of Australia, MIM Holdings and many other corporate and charitable roles.
What is less know about this great Australian is his humble origins and rise to become one of this country's pioneering Internationalists, living in five different countries whilst a senior executive with General Motors.
Deveson has much to say about the automotive industry and Local Government in particular but the book is wide ranging in it's commentary on management, leadership, corporate governance, education and many other topical issues. This book is an inspirational 'lesson in life' that holds no punches.
Available Now