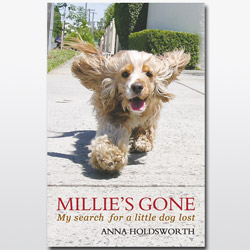 Millie's Gone: My Search for a Little Dog Lost
Anna Holdsworth
About the book
This is a story about Millie, a small golden spaniel that was adopted from the local dog pound as a companion after Anna's (the author) husband died.
It is the story of how Millie was stolen from outside a supermarket in inner-suburban Melbourne and Anna's intense efforts to find her which involved the whole community.
But this is more than a 'lost dog' story...it is a story about the connection between people and their pets.