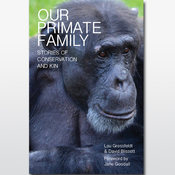 Our Primate Family: Stories of Conservation and Kin
Lou Grossfeldt and David Blissett, Foreword by Jane Goodall
About the book
'It is my hope that many people will read and enjoy these stories. And that this will encourage them to join the growing band of those of us who care and help us to make a positive difference for primates, and all living things.' From the foreword by Jane Goodall
Primates are a group of animals more like us than any other. They are beautiful, enigmatic, often misunderstood. They are our biological family. And many of them are in trouble.
Lou Grossfeldt has always wanted to work with animals. Today she is one of Australia's leading experts on primate husbandry and care. Lou has spent more than two decades working to help save our primate family from extinction. In this book, Lou shares her remarkable stories with award-winning writer David Blissett.
You'll travel from the stunning rainforests of Borneo and Vietnam, to the vanishing wilderness of Madagascar and Uganda, then to one of the world's most iconic zoos.
You'll read about the refugees of the forest and meet some notable members of the family.
Lou offers insight into the plight facing primates in the wild, and shares some practical advice each of us can follow to help make a tangible difference to the survival of these amazing animals.
Available Now