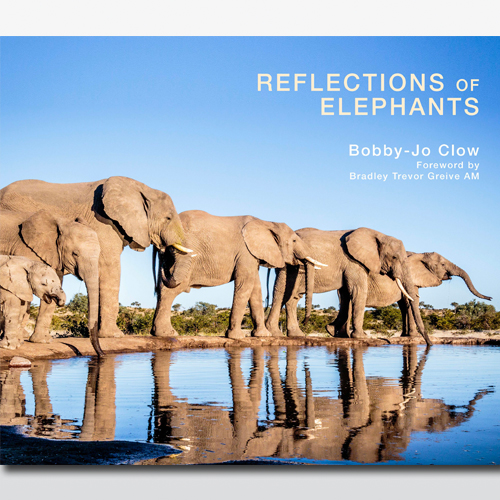 Reflections of Elephants
Bobby-Jo Clow
About the book
Reflections of Elephants is a celebration, seen through the lens of acclaimed photographer Bobby-Jo Clow. From the rusty, red plains of Tsavo to the lush, green forests of Northern Thailand, Bobby-Jo has captured every aspect of elephant life, from first step to untimely death.
Her astonishing images have been paired with the words of writers, poets, scientists, conservationists, students and everyday people, to produce unique reflections of this most iconic animal.
'Bobby-Jo Clow is a wonderful photographer whose work I admire — her love of elephants and commitment to their cause shines through in her remarkable and often moving images.'
— Rick Stevens, Australian Press Photographer of the Year 1978 and 1988
A percentage of all proceeds from the book will go towards The Askari Project.
Reviews and Features:
See a sneak peak of the book via Africa Geogrpahic