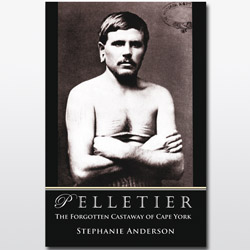 Pelletier: The Forgotten Castaway of Cape York
Stephanie Anderson
About the book
French cabin boy Narcisse Pelletier was fourteen years old when the Saint-Paul was shipwrecked near Rossel Island off New Guinea in 1858.
After a gruelling voyage in a longboat across the Coral Sea to Cape York, he was rescued by a coastal Aboriginal family and remained with them as a member of the Uutaalnganu people for seventeen years.
Even though it is all but forgotten in Australia, and in France his Cape York experience is known only in its broad outlines, his story rivals that of the famous William Buckley.
Now, for the first time, this remarkable true story is presented in English, complemented by an in-depth introductory essay and ethnographic commentary. This book is required reading for anyone with an interest in Australian history, anthropology, or the intriguing pre-colonial world of a coastal Aboriginal people.
Available Now