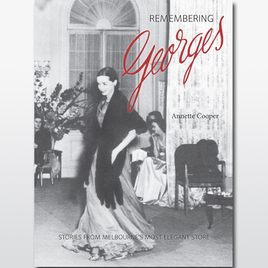 Remembering Georges: Stories from Melbourne's Most Elegant Store
Annette Cooper
About the book
When Georges closed its doors on 5 October 1995, it had been trading for 115 years. Yet this famous department store, situated in the 'Paris End' of Collins Street, still lingers in the minds of many today.
Remembering Georges documents the memories of staff and clients before this living connection fades.
The unique 'voice' of each interviewee shines through, because the memories are in their own words. This richly illustrated book displays many of the fabulous images associated with Georges, and reflects the style and elegance of the store itself.
Georges devotees, as well as those interested in fashion, design, and Melbourne's retail and social history, will revel in the stories held within.
New edition available now!