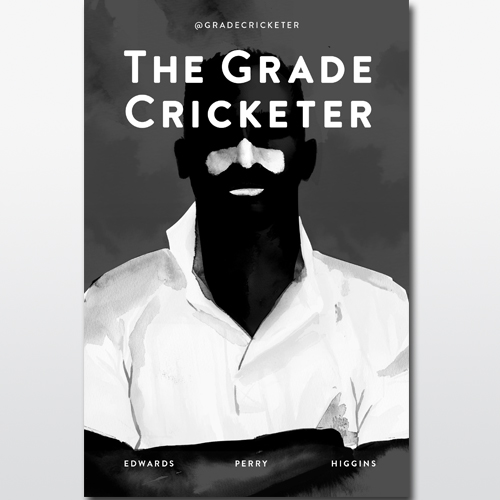 The Grade Cricketer
ISBN: 9781922129819
About the book
'The Grade Cricketer is the finest tribute to a sport since Nick Hornby's Fever Pitch, and the best cricket book in yonks. It's belly-laughing funny but it's also a hymn to the grand and complex game delivered with a narrative pace and ability I'm afraid most Test players don't have. For anyone who ever dreamed of excelling at a sport but never quite made it but still gave it your life, this is the story. A great read!'
Tom Keneally - Miles Franklin Award and Man Booker Prize winning Author
The Grade Cricketer is without doubt the most original voice in cricket. He's become an expert on everything to do with the game (except scoring runs and taking wickets).
The Grade Cricketer provides a light-hearted looking glass into the rhythms of an adult sporting dressing room. If you've ever wanted to know why someone you love is intent on spending their weekends on a cricket field, this book will give you those answers.
'The Grade Cricketer has taken us so far inside a district club dressing room that you feel like a locker. Ligaments could not be closer to the bone than some of his observations.'
Kerry O'Keeffe - Commentator and former Australian Test Cricketer
'The beauty of The Grade Cricketer is he is more than a grade cricketer — he is every cricketer, from the park to the SCG. His insights into the game make people laugh mostly because they reflect every cricketer's unspoken convictions. We all live vicariously through him, as he does us.'
Ed Cowan - Australian Cricketer
'Having an arm like a leg and constantly taunted that the batter down the local fish and chip shop was better than me, I found comfort from The Grade Cricketer that your relevance at a cricket club was not just on the field. His guidance has changed my life forever, and also my technique on the leg side.'
Ryan Fitzgerald - Media personality
'The Grade Cricketer embodies the hopes and dreams of every dedicated, hard-working club cricketer — except those that involve actual dedication and hard work.'
Richard Hinds – Sports writer
Reviews and Features
'The Grade Cricketer: the eternal crisis of returning from the off-season break' - The Grade Cricketer - The Guardian - 3 June 2016
'The Grade Cricketer hits a six' - Peter Fitzsimons - Sydney Morning Herald - 26 February 2016
Interview with ESPN Cricinfo - Daniel Brettig - 23 February 2016
'The Sticky Wickets of Making the Grade' - Gideon Haigue - The Australian - 26 December 2015
'"Grade Cricketer" Twitter account evokes genuine affection for past and present players' - Richard Hinds - Daily Telegraph, 7 November 2015
'Reviewing "The Grade Crickter"' - Dane Eldridge - The Roar, 3 November 2015
The Grade Cricketer podcast - download for free from iTunes
Also available as an ebook on all platforms.