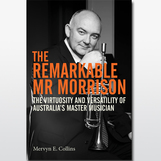 The Remarkable Mr Morrison: The Virtuosity and Versatility of Australia's Master Musician
Mervyn E. Collins
About the book
The Remarkable Mr Morrison delves into the life and musicality of James Morrison, one of Australia's most internationally acclaimed musicians.
It follows not only his transformation from tearful primary school boy to supremely confident performer, but also explores the nature and development of his giftedness. James discovered his natural talent early and was playing international jazz festivals in his teens. He has a unique ability to play a variety of instruments to world-class standard, while maintaining an affable and effervescent approach to his multi-faceted life.
In his spare time he drives fast cars, flies planes, loves boating, abseiling and gadgetry and has completed several triathlons, but above all he is a musician par excellence.
This book critically examines his qualities, both musical and personal, and his rise to the highest echelons of every jazz genre. The book has been written with the cooperation of James.