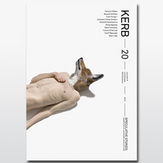 Kerb 20 Journal of Landscape Architecture Speculative Stories: Narratives in Landscape Architecture
RMIT Landscape Architecture Program
About the book
Kerb is the RMIT Landscape Architecture Program journal that provides a critique of ideas, projects and opinions of contemporary landscape architectural thought.
Kerb Edition 20 examines ways in which speculative narrative discourse can be applied to landscape architecture.
How can landscape architecture endeavour to resist the tendency for our creative pursuits to be limited, act to expand the horizon of what is defined as landscape architecture practice, while unravelling the trajectory of our discipline?
Available Now